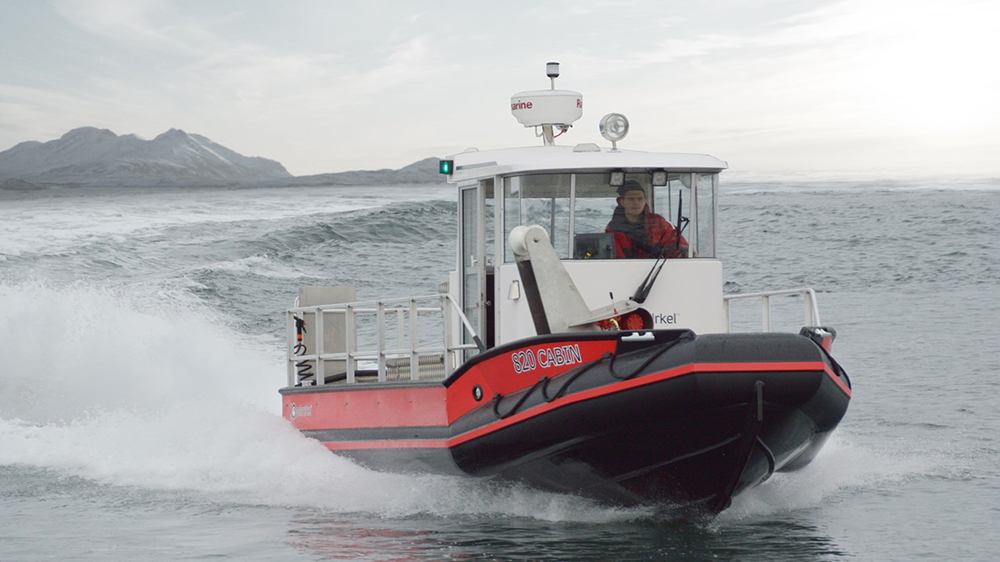 Fish farmers already know that the boat is essential for allowing personnel to get the job done. Work in the fish farming industry can involve a great deal of strain, and the requirements you place on the boat have an impact on the safety, efficiency, and comfort of your employees. Regardless of the purpose, the boat has to be safe and resilient and have a long service life maximise the investment. When thinking about expanding or replacing parts of your fleet, there are a few things you should consider.
Material properties
The materials affect many aspects and determine factors such as seaworthiness, maintenance and safety. You should choose a material that can withstand impact, whether you are looking for a smaller boat suitable for repair work and shorter trips or a larger boat that can transport people across the open sea. A polyethene (PE) boat will have many of the characteristics you are looking for. Our Polarcirkel boats are made from this resilient and durable plastic foam material that can withstand strong impact from both the edge of the net pen and the beach without suffering damage.
The boats have been tested and developed to tolerate the rugged climate up here in the north, and PE has been found to have practically unlimited durability against wear and tear caused by the forces of nature. This material grants you a virtually maintenance-free boat.
Furthermore, modifications are easy when using PE. That's why the material is particularly well suited for individual adaptations and customisation. As the future owner and user of the boat, you can help create customised variations to the design, wheelhouse, cranes, hydraulics and more to ensure that it meets your needs.
Seaworthiness
Polarcirkel workboats are developed by Helgeland Plast AS, a manufacturer with more than 50 years of experience supplying workboats with unique seaworthiness. A Polarcirkel RBB hull (Rigid Buoyancy Boat) is self-bailing and has rigid polystyrene-filled pontoons. Consequently, the boats are incredibly stable and practically unsinkable.
The excellent bow and hull design give improved seaworthiness and less sea spray. The bow in our workboats has been raised by 25 cm to improve steering comfort and reduce sea spray. The 21-degree V-shaped hull contributes to the excellent stability.
It can be challenging to find a decent boat that can reach certain speeds while also being able to withstand extreme conditions. Safety and security should never be sacrificed in favour of speed. People in the fish farming industry have to go out to sea in all weather conditions and often to exposed locations. The seaworthiness of the boat has to be high to ensure that your employees are safe regardless of the conditions at sea.
Developed in partnership with the fish farming industry
As Plutarch once said, "you do not know where the shoe pinches (unless you are the one wearing it)". Several of our boat models have been designed in partnership with customers in the fish farming industry. Thanks to their input and advice, we have modified the models to meet their needs.
A great example of such a partnership is our top model Polarcirkel 1050. With double pontoons, this model is more stable on the water and can withstand waves as high as six metres. The model was developed because an increasing number of customers have their sites further from shore, where the conditions are more extreme.
Stringent testing
The boat has to be a safe workplace at sea. A final thing to consider when purchasing a boat is therefore how thoroughly the boat model has been tested. Do suppliers undertake regular work to test the tolerance of the boats? Are the models classified? The boats should have undergone testing under extreme conditions, ideally at several locations throughout the world. Can they withstand both intense heat and severe cold? Boats fit for Arctic latitudes can typically endure both rough use and extreme weather. Polarcirkel is one of the most commonly used boats on Svalbard, which should provide some indication of how resilient and safe these boats are.
Polarcirkel workboats imply that you are serious about the safety of your employees. With Polarcirkel, you would also be choosing a boat that enables you to meet government safety requirements easily, without hindering efficient use. The fish farming industry is a responsible industry that seeks to meet such regulations well ahead of new statutory instruments being issued. If you are to get the most out of investing in a new fleet, it would be beneficial to make this type of assessment now.